Equipment Rental Industry Overview
Owning and operating an equipment rental business can be very rewarding and profitable. Many equipment rental business owners started out with one used machine, and gradually built up their businesses through hard work, great customer service and maintaining a fresh and healthy equipment fleet.
Starting an equipment rental company is not as expensive or encumbering as you would think. With some careful planning, initial capital, and passion for the industry, you can start your own equipment rental company in a few weeks.
The equipment rental industry has grown at about 5% per year over the past few decades. The outlook for the industry is very positive, with many industry experts forecasting 4-5% annual growth over the coming years. The long-term shift by contractors to rent more equipment is causing the equipment rental industry to outgrow the overall construction industry.
Equipment Rental Industry Market Share
The equipment rental industry is very fragmented - this means that the vast majority of industry sales are generated by small and medium-sized rental companies. According to the American Rental Association (ARA), the top 10 equipment rental companies have about 35% market share, and the top 3 companies have about 25% market share.
The largest North American equipment rental companies include United Rentals, Sunbelt Rentals, Herc Rentals, Home Depot Rentals, and Ahern Rentals. The total annual industry sales are over $50 billion, and the long-term growth rate is about 5% per year.
Source: United Rentals and Equipment Radar
Takeaway: The top three industry players have a 25% combined market share. This means the industry is very fragmented and comprised mostly of small and medium-size companies.
Source: United Rentals, American Rental Association (ARA), Rental Equipment Register (RER), and US Census Bureau
Takeaway: The US Equipment Rental industry size is over $50 billion, with a growth rate of about 5% each year.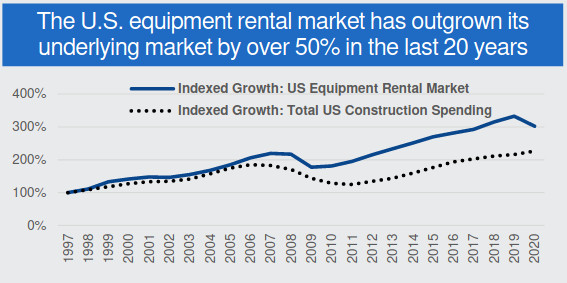 Source: United Rentals, ARA, RER, and US Census Bureau
Takeaway: The US Equipment Rental industry has outgrown overall construction spending since 1997.
Equipment Rental Covers More Than Just Construction Machinery
Many equipment rental companies augment their equipment fleets to include general tools, HVAC, power generation, and event (party, wedding, concerts, etc) equipment.
The ARA segments the rental industry into three primary categories:
Construction and Industrial Equipment:

This category primarily serves construction firms and contractors. Equipment typically includes earthmoving equipment such as excavators, loaders, backhoes and compaction machinery, light towers, aerial work platforms. This segment can also include road infrastructure, energy projects, commercial buildings, malls, demolition and more.

DIY General Tool Equipment:

This category includes equipment typically rented by professional contractors and do-it-yourself (DIY) homeowners. Equipment includes small and light construction equipment such as power tools, air compressors, aerators, lawn tractors, compact tractors, skid-steer loaders and small excavators, etc.

Party/Wedding/Event Equipment:

This category includes equipment rented by consumers, homeowners and businesses for parties and events. Items can include tents, tables, chairs, lights, dance floors, decorations, linens, plates and glassware, portable restrooms, concession equipment, inflatables (moonwalks), and other furniture. Projects can range from large corporate events to small family gatherings.
When you start your rental company, you can choose to serve one or more categories. Many established rental companies offer an all-in-one stop rental offering. You should research your local market demand for each category to understand which suits your local market best.
Aerial lifts and earthmoving equipment tend to be popular categories for equipment rental companies. When you choose your categories, you should study the local rental rates, seasonality (demand fluctuates through the year based on weather and construction patterns) and competition.
Herc Rentals Equipment Fleet Mix
Source: Herc Rentals
Takeaway: Large rental companies such as Herc Rentals have diverse fleets. Both United Rentals and Herc Rentals have placed increased focus on expanding into the specialty rentals category over the past few years.
Equipment Rental Customers
The equipment and event rental industry offers customers the opportunity to gain the benefit of using goods (from excavators and aerial lifts to party tents) for a defined time. Customers are attracted to rentals instead of purchasing equipment for multiple reasons, including:
Control expenses and inventory
Wide selection of equipment
Professional customer care / service
No need for maintenance or downtime
Save on storage / warehousing
Reliability
Equipment tracking
Conserve capital
Manage risk
Customers can range from professional contractors who need aerial lifts for several months to an average homeowner who needs a stump grinder for a weekend project.
Steps to Starting Your Equipment Rental Business
1. Business Plan
Every great business out there today started with a simple idea. To transform that idea from something imaginary into something real, you should make a business plan that outlines your strategy and thoughts. Writing a business plan is one of the best ways to force yourself to think about your business from many angles. It also is a helpful document to share with potential investors and lenders.
When you create your business plan, it is important to keep your expectations realistic. Setting goals and metrics too high at the beginning can lead to wasted time and money down the road. Remember that there are always unforeseen costs and challenges with any new venture, so it is prudent to bake in padding and leeway.
A typical business plan includes the following sections:
2. Form Your Company
You should create a legal entity such as a corporation or LLC to separate your business interests from your personal interests. You must register your business with your state, pay a registration fee, and also register with the IRS. Once you have formed your company, you should open a bank account and deposit initial capital into it.
3. Purchase New or Used Equipment For Fleet
Many newly-formed rental companies start with just one used machine, and later they upgrade and expand their fleets over time. You can shop online for new and used equipment to buy your first equipment.
4. Create Safety & Risk Management Plans
Buy proper insurance to cover your business from accidents and injuries. Talk with your business insurer, so you understand what is covered and what is not covered.
Create safety guidelines for your shop, and teach employees how to handle the equipment safely. Make sure any dangerous areas in your storage or warehouse are safeguarded.
5. Organize Business Operations
Choose a store location. You will need enough space to store your equipment, an office area for you and other workers to work, a service area, a check-in/out counter to handle customers, and a showroom for equipment, accessories and more.
A nice-looking showroom can be a strong selling point for your business. It gives your customers an opportunity to look around and see what you have to offer. You should think of your showroom as your marketing platform.
6. Make Maintenance & Fleet Refresh Plan
You should pay close attention to the condition of your fleet. Inspect it after every rental, and perform both scheduled and unscheduled maintenance as needed. The top-performing rental companies typically have a systematized process to inspect, clean and renew equipment after it is returned from a job site.
As your equipment begins to age, you should consider selling your older equipment and buying newer equipment to keep your overall rental fleet relatively new. Large rental companies typically target an average fleet age of about 50 months (4 years old), which means that they sell equipment when it gets to be about 7-8 years old. Customers often prefer newer equipment that looks good.
Financial Planning
Rental Rates
Rental rates are often determined by local supply and demand for rental equipment in your area. Rates go up and down based on time of year, type of equipment and equipment condition.
Rental rate changes are very important to monitor. Each $1 change in rental rate is a $1 increase or decrease to the bottom line. When your rental rate changes, your other costs do not change much.
Typically most companies will provide daily, weekly and monthly rental rates. As the rental term extends, the average daily rate tends to go lower. Weekly and monthly rentals can often be more profitable for equipment rental companies even if their average daily rental rates are lower because there are not as many inefficiencies associated with them (transportation to and from the location, downtime for inspection and servicing, etc).
Utilization
Utilization is an important metric that you should watch carefully. Higher utilization typically means higher profitability. The equipment rental business is largely a fixed-cost business - your equipment, building lease, employee costs all stay about the same whether you have your equipment out on rent or not.
Utilization is a two-edged sword. If your utilization is too high and you do not have any equipment available for rent, then customers may be forced to go with a competitor. It's best to increase your fleet size if utilization goes too high, and reduce your fleet size if your utilization goes too low.
Seasonality
Construction tends to be very seasonal, depending on your geographic location. You should research the swings in seasonality to understand business trends during the busy summertime and slower wintertime.
Cyclicality
Equipment rental is susceptible to economic cycles. When the broader economy slows and construction pulls back, the demand for rental equipment also slows. Typically rental rates will soften or fall during a downturn.
Rental Industry Terms & Metrics
The industry uses several common terms to measure equipment fleets and financial performance. Below is a list created by the ARA to help you get acquainted with industry standards:
Original Equipment Cost (OEC)

OEC measures the size of a rental fleet expressed in dollars. It is the gross acquisition cost (no depreciation). OEC includes the cost of any refurbishments that are capitalized.

Time (Physical) Utilization (TU)

TU is the time an equipment unit is on-rent divided by the total time available. Fleet-wide TU is weighted by OEC and is a measure of fleet efficiency expressed as a percentage of time the fleet is on-rent. TU per equipment unit = (OEC on rent during the period)/(Total OEC for the period)

Financial Utilization ($U)

$U is a function of annualized rental revenue exclusive of ancillary fees weighted by OEC. $U is calculated by dividing 'pure' rental revenue by average OEC. The $U excludes ancillary revenue such as insurance, waivers, delivery charges, etc.

Fleet Age (Age)

Age is the OEC –weighted average age (expressed in months) of the equipment in the fleet. No adjustments are made for refurbishments.

Change in Rental Rate %RR

The period-over-period change in rental rates measures the change in average contract rental rates. Rates vary depending on contract type (daily, weekly or monthly) and the equipment rented.
Keeping a fresh fleet that is well-maintained and serviced is very important to managing customer relations and expectations. Typically rental companies will target an average age for the entire fleet. By regularly buying newer equipment and selling older equipment, the rental company can maintain a constant fleet age.
Below is a sample overview of United Rental's fleet statistics from its 2020 annual report:
| | | |
| --- | --- | --- |
| Item | 2020 | 2019 |
| Fleet OEC (billions) | $13.8 | $14.6 |
| Equipment Units | 615,000 | 665,000 |
| Fleet Age In Months | 55 | 50 |
Summary
Starting your own equipment rental company is within the realm of possibilities. Spend time researching your local market and creating a business plan, and soon enough, you will be ready to launch your new venture.
Resources
How to Make Money - An Entrepreneur Mindset That brings him in $1/2 Million a year

Find Similar Articles By Topic
#construction #material handling #United Rentals #Herc Rentals #Sunbelt Rentals #checklists