New Holland is a global brand of agricultural and construction machinery with a rich history dating back to 1895. New Holland's agricultural products include tractors, combine harvesters, balers, forage harvesters, self-propelled sprayers, haying tools, seeding equipment, hobby tractors, utility vehicles, implements, grape harvesters and more. The New Holland construction line is managed separately from the agriculture line - the two have separate logos as well.
The New Holland Machine Company was founded in 1895 in New Holland, Pennsylvania (hence why it is called New Holland). The brand changed ownership multiple times over the past century:
For those who want a quick answer - New Holland's tractors are made on four continents in the following countries: United States, Mexico, Brazil, Argentina, China, India, Russia, Uzbekistan, United Kingdom, Italy, and Turkey. Most of New Holland's high horsepower tractors sold in North America are manufactured in North Dakota and Wisconsin.
New Holland Ownership History - Sperry, Ford, Fiat and CNH
1895: Founded in New Holland, Pennsylvania
1947: Acquired by Sperry Corporation
1986: Acquired by Ford Company
1991: Acquired by FiatAgri (today known as Fiat Group, the auto company)
1999: New Holland became a brand of CNH Global (NYSE: CNH), which was majority-owned by Fiat Industrial
2013: CNH Global and Fiat Industrial were merged into CNH Industrial
2019: CNH Industrial announced its intentions to separate the on-highway and off-highway businesses at its Capital Markets Day
New Holland Logo & Branding Over Time
New Holland branding evolved over time as its ownership changed. The symbolic agriculture field pattern stayed with the brand during its time at FiatAgri. The logo changed more while it was under the ownership of Ford.
Ford owned New Holland for about five years between 1986 and 1991. During that time, Ford manufactured tractors under the Ford, New Holland and Ford New Holland brands.
The separate agriculture and construction logos were created under the ownership of Fiat.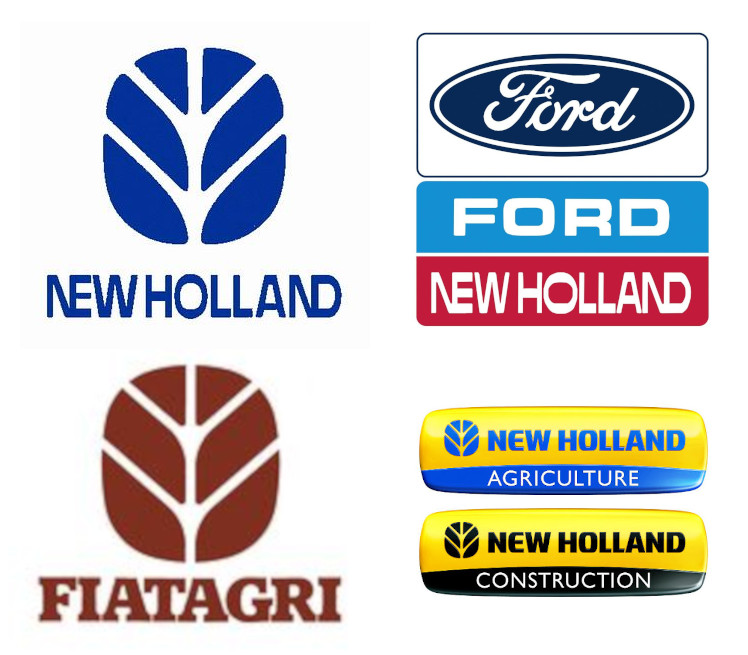 Source: New Holland
Notes: The New Holland logo evolved over time as it changed ownership. All logos are trademarks of New Holland and its prior parent companies. The logo collage is for informational purposes only.
CNH Industrial
CNH Industrial was formally separated from Fiat in 2013 in a spin-off overseen by CEO Sergio Marchionne and the Agnelli family (from Italy, they are large stakeholders in Fiat and Ferrari). CNH's portfolio included Case IH, Case Construction, New Holland Agriculture, New Holland Construction, Iveco (trucks & bus), FPT Industrial (industrial engines) and the financing arm. Read more about Case IH (Where are Case IH Tractors And Combines Made?)
Fiat had become a giant company after it acquired the bankrupt Chrysler Corporation during the Financial Crisis. The CNH Industrial spin-off was meant to simplify the businesses by creating a separate automotive company (Fiat Chrysler Automotive) and a truck and off-highway industrial company (CNH Industrial).
CNH Industrial is a global company with its headquarters in Basildon, UK. It is controlled and mostly owned by the Italian investment company Exor, which in turn is controlled by the Italian Agnelli family. The legal headquarters are in Amsterdam, Netherland.
CNH Industrial has a network of more than 11,500 dealers and distributors in over 170 countries worldwide. Dealers are independent and not owned by CNH Industrial, with the exception of a few dealerships in North America and Europe.
CNH Industrial's current CEO is Scott W. Wine (American) and the company employs more than 63,000 people in 67 manufacturing plants and 56 research and development centers.
Source: CNH Industrial
Notes: CNH Industrial serves multiple end markets (agriculture, construction, trucks, bus and military)
Multiple Brands, Separate Operations
Despite the fact that CNH Industrial has many different brands under its corporate umbrella, the brands actually operate mostly independently with very low overlap. Most of the manufacturing plants are separate, and not all dealerships carry all brands. For fun, you can compare the CNH Industrial brands visually:
Sergio Marchionne did make an effort to achieve cost synergies by pushing for New Holland, Case, and Case IH to use common engines and components sourced from FPT Industrial; however, significant manufacturing combinations were never pursued.
Contrary to some beliefs, the New Holland Brewery and beer label are not associated with the New Holland Agriculture brand.
New Holland Factories
New Holland maintains a global manufacturing footprint in North America, South America, Europe and Asia. Some tractor factories shipped globally, while other tractor factories are meant for local or regional markets only. For example, the high horsepower tractor facility in Racine, Wisconsin ships the T8 tractor globally, but the Cordoba, Argentina facility produces tractors for the domestic market only.
You can see the full New Holland factory list below.
North American Operations
South American Operations
Curitiba, Brazil:

Production facility for tractors, including the T8, and harvesting equipment for Latin America that has produced over 25,000 TC combines.

Cordoba, Argentina:

Production facility for CR combines and specialty tractors for the domestic market.

Sorocaba, Brazil:

Production facility for the CR combine range for the Latin American region.

Piracicaba, Brazil:

Production facility for the Defensor sprayer for Latin American markets.
Asian Operations
European Operations
Basildon, UK:

Production facility for medium and high horsepower tractors, home of the multi-award-winning T7 tractor range.

Coex, France:

Production facility for grape harvesters, home of the original Braud design.

Croix, France:

Production facility for components, including the Horizon Cab.

Jesi, Italy:

Production facility for specialty and low horsepower tractors that has produced over 500,000 machines.

Lecce, Italy:

Production facility for telehandlers.

Modena, Italy:

Production facility for components.

Plock, Poland:

Production facility for combines, headers and round balers.

Zedelgem, Belgium:

Production facility for flagship harvesting products including the CR range of Twin Rotor™ combines, the FR forage harvester, CX conventional combines and the BigBaler range of large square balers.

Ankara, Turkey:

Production facility for tractors that are exported across the globe and that has produced over 600,000 tractors.
New Holland Tractors
New Holland
T9 Series 4WD Tractor
Manufactured in Fargo, ND
New Holland
T8 Series Genesis Tractor
Manufactured in Racine, WI and Curitiba, Brazil
New Holland
T7 Series Tractor
Manufactured in Basildon, UK
New Holland
T6 Series Tractor
New Holland
T5 Series Tractor
New Holland
T5 Series Tractor
New Holland
T4 Series Tractor
New Holland
T3F Series Compact Tractor
New Holland
PowerStar Tractor
New Holland
Boomer Utility Tractor
New Holland
Workmaster Utility Tractor
Find Similar Articles By Topic
#agriculture #construction #tractors
Comments